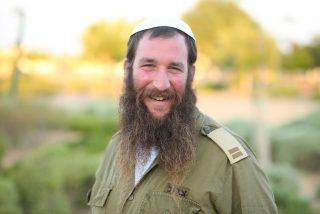 As the Founder and Chairman of Tzalash, Rabbi Peretz Einhorn has been involved in every aspect of the organization since the beginning. He started Tzalash to make a meaningful impact on the spiritual and emotional lives of Israeli soldiers and their families. Today, "Rav Peretz," as he is affectionately known, not only works with the staff to create and implement the vision of Tzalash, but he is also a charismatic speaker whose regular lectures on army bases are eagerly anticipated by thousands of soldiers.
Rav Peretz's love of Judaism and the Jewish people is infectious and has earned him the admiration of leading rabbis, senior military personnel, and appreciative soldiers and their families. His leadership and efforts on behalf of the soldiers was recognized in 2022 when he was awarded the prestigious Giborei Koach prize.
Rabbi Einhorn studied in numerous institutions – both before and after his army service – but he drew his primary inspiration from his years spent in Mechinat Atzmona. He served in the IDF's Givati brigade, as both a soldier and a commander, from 2004 – 2007. After his time in the army, Rabbi Einhorn returned to Atzmona as a faculty member, teaching Torah classes and supervising the students once they were drafted to the army.
It was during this period, seeing the challenges that his students were confronting, that he founded Tzalash in 2013. In addition to his work with the soldiers, Rav Peretz teaches regular classes in Atzmona and Yeshivat Sderot.
Rabbi Einhorn and his wife Rachel live in Ra'anana and are the proud parents of seven children.
Strengthening And Inspiring The Soldiers Wherever They Are